Art Gallery Moll - Lima, Peru. Sale of works by contemporary Peruvian artists and certified prints by European masters.
On the night of 15/16 November 2000 this work by CAMILO BLAS entitled "Landscape with Two Trees", size 50cm x 60cm, dated 1976 was stolen from Art Gallery Moll. (Published on page 104 of the book by Andres Zevallos "Three Painters of Cajamarca".)
En la noche del 15 al 16 de noviembre del 2000 fue sustraído del local de la Galería Moll una pintura del artista CAMILO BLAS, titulada "Paisaje con dos árboles", fechada 1976, de 50 x 60 cm. (publicada en la página del libro de Andrés Zevallos: "Tres Pintores Cajamarquinos").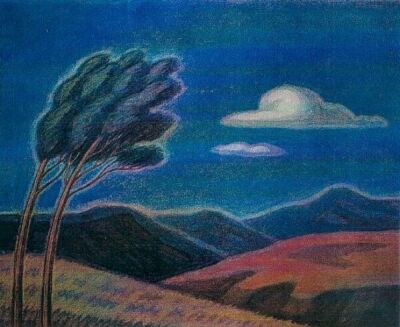 If you have any information please call 445-6592
(Art Gallery Moll, Av. Larco 1150 - 8, Miraflores, Lima 18).
Reward offered. Thank you.
Cualquier informacíon, favor de llamar al teléfono 445-6592
(Galería de Arte Moll, Av. Larco 1150 - 8, Miraflores, Lima 18).
Se gratificará. Gracias.
All artwork is copyright of the respective owner or artist.
All other material Copyright © 2000-2001, Syberian, Lima, Peru. All Rights Reserved.
Homepage URL http://gallerymoll.tripod.com/